Eico HF-81 Vintage Tube Integrated Amplifier Fully Restored 1960's Magic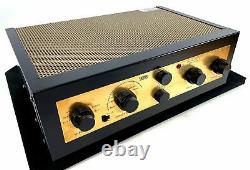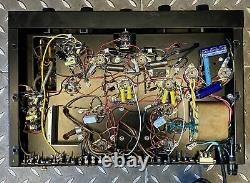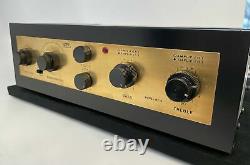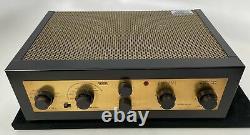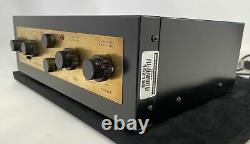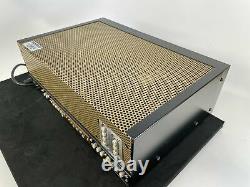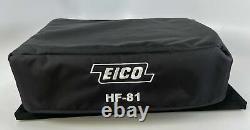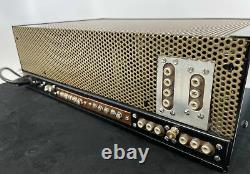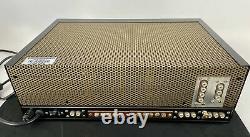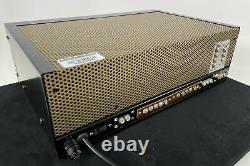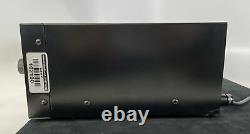 No mid-fi, no gimmicks, no junk. Each piece of equipment is cosmetically restored and fully tested in our well-equipped lab by an engineer with 30+ years of experience in the HiFi world.
Through our sister company, which is an authorized dealer for McIntosh, Audio Research, Sonus Faber, ClearAudio, Project, and Sony ES, we have access to OEM parts, service, and support. Full blown restoration of this great vintage integrated.
In rare near-mint condition with a great patina on the brass faceplate. Wonderfull collectible piece in rare condition, plus it also includes a custom cover. SkyFi Notes on the Restoration: This piece came to us having already underwent an extensive restoration. Here is a rough outline of what we picked up on during our testing and review process: Chassis painted black instead of the original stock raw metal. Full recap including a new CE multi-section can, axial electrolytics, a mix of film and PIO coupling caps, and select micas.
3-prong grounded power cord added. SEP, COM Switch removed from circuit. This was a top notch restoration in all respects. Tube Notes: The rectifier tubes are current production Electro-Harmonix.
The output tubes are all vintage GE, save for one branded Zenith. T he 12AX7s are GE branded, and the 12AU7s are a mix of Sylvania & Philips. All tubes were tested on our modern and professional Amplitrex AT-1000 tube tesrter, and were also confirmed working properly in circuit.
Four x ECC83/12AX7 Four x EL84/6BQ5 Two x EZ81. 14Wpc (11.5dBW) continuous into rated load. Frequency response (at 1W into 8 ohms). ±15dB at 50Hz and 10kHz. IM distortion (60Hz and 6kHz at 4:1). 2% at 14W, 0.05% at 5W. Mag phono 4mV Tape head 2mV Mic 5mV Aux and tuners 500mV.
4, 8, 16, and 32 ohms. 15" (385mm) W 4-3/4" (120mm) H 10-1/2 (270mm) D.
EICO, Electronic Instrument Company, Long Island City, NY (1960). The SkyFi Testing Process for Tube Amplifiers: We start with a visual inspection of all internal components to make sure there are no signs of stress or aging. Capacitors are checked for telltale sings of bulging or leaking, resistors are checked for signs of overheating or cracking, and tubes are inspected for signs of stress overheating or cracking. We then power up the unit carefully and run a simple 1k sine wave while monitoring the output on an oscilloscope for signs of distortion or noise.
Finally we run the amplifier to its full rated power into the appropriate resistive load provided by our Sencore amplifier tester. If there is an issue, it will usually be noticeable at this point. If it all looks clean we will often test for THD (Total Harmonic Distortion) measured by our Keithley distortion meter, and compare it against the original manufacturers specifications.
The amplifier the remains powered on to "burn in" on our test bench for a few hours to make sure there are no heat related issues. If there are balanced inputs available they will also be tested.
We also test all tubes for output gain and leakage on our calibrated B&K 747 tester against the original manufacturers specifications. If needed, the tubes will be replaced from our vast NOS (New Old Stock) vintage or modern inventory. Final testing involves pushing actual music thorough the amplifier. We've learned over time that some issues are only noticeable to a trained ear while listening to familiar source material. Our test bench has reference vintage KEF speakers that we're very familiar with which quickly reveal any discrepancies. Some amplifiers will then move into our listening room where they are tested with our in-house reference speakers of choice. We have too many items for sale and its nearly impossible to keep track of offers outside of the official system. We accept trade-ins of equal or lesser value under certain conditions. Please visit our website to submit your gear for full consideration. We will only consider high-end equipment from mainstream manufacturers such as McIntosh, Mark Levinson, Audio Research, Krell, etc. And will typically pass on displays, projectors, receivers, dated surround processors, and mid-fi equipment of any type. We will offer a fair value for your equipment, but keep in mind were running a business and will need to be able to resell the equipment at a profit after investing a great deal of time and resources in testing, certifying, repairing, cleaning, and packaging the incoming equipment. SELL US YOUR GEAR (Working or Broken). Simply visit our website to submit your gear for full consideration. We are currently operating from our shop inside our dedicated building in Glen Rock, NJ. We have several well-equipped and dedicated listening areas, plus a dedicated listening studio with tons of equipment of all makes and models. Were not a store, so please dont make an appointment if youre just curious as to how a speaker or piece of equipment sounds. In essence - no tire kickers please. This is super useful when purchasing large speakers or heavy amplifiers. Its also great for ensuring your new turntable is setup correctly in its final resting place. The item "Eico HF-81 Vintage Tube Integrated Amplifier Fully Restored 1960's Magic" is in sale since Wednesday, July 21, 2021. This item is in the category "Consumer Electronics\Vintage Electronics\Vintage Audio & Video\Vintage Amplifiers & Tube Amps". The seller is "skyfiaudio" and is located in Glen Rock, New Jersey. This item can be shipped to United States.
Brand: Eico
Type: Tube Amplifier
MPN: HF-81
Model: HF-81