Icon Audio Stereo 60 Mk III Kt120 Integrated Amplifier 80+80 W Ex Demonstrator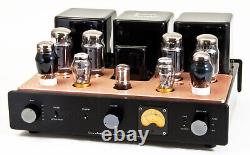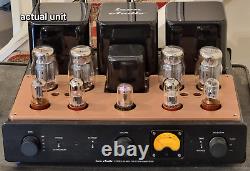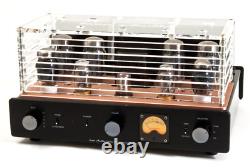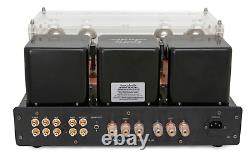 Stereo 60 MK III ex demonstation from our listening room. Our most powerful integrated valve amplifier rated at 80 Watts per channel using the KT120. This is the same amplfier as the ST60 KT150 but fitted with the similar Tung Sol KT120 which gives the same output and specification. Please note the stock photo shows upgraded driver valves not included, standard types will be supplied as shown in the actual photo. Probably having no more than 100 hours use.
Complete with matched valves, remote control, manual, mains lead, box. Full details are on our website.
May be used as a power amplifier. · Built in bias & valve test meter. · Hand wired point to point.
· Japanese Blue ALPS volume pot. · Class A, Triode front end. · Output circuit Ultralinear or Triode switchable. · KT88/6550 compatible (when de-rated).
· 2x 6SL7 first stage valves. · 2x 6SN7 output driver valves. · 2x 80 Watts Ultralinear.
· 2x 50 Watts Triode mode. · Signal to noise level -90db.
· Frequency response 20hz-20kHz +0 - 0.5db full power. · THD less than 0.05% 1khz. · 4 and 8 ohm loudspeaker outputs. · LDT Tertiary Custom hand wound output transformers.
· Solen Hi Fi quality audio capacitors. · Mundorf capacitor upgrade on request.
· Silver PTFE audio cable. · Gold plated Input & speaker terminals. · 230/240volts 200watts typ, 500w max. · 43cmW, 38D, 23H, 35kg. Item may be auditioned and collected (cash/card only) from our Leicester office.