Sansui AU-111 Integrated Stereo Tube Amplifier 80WRMS Vintage 1965 Good Look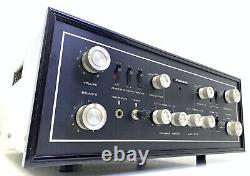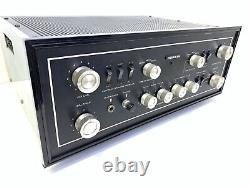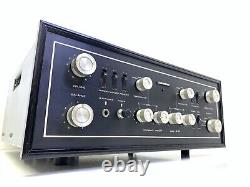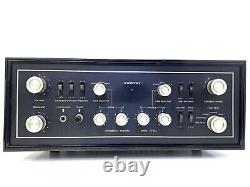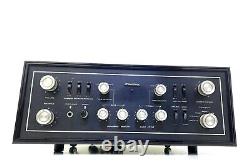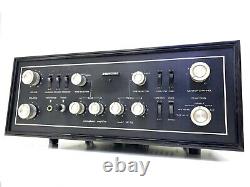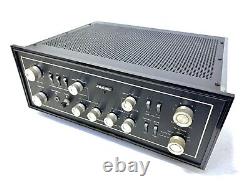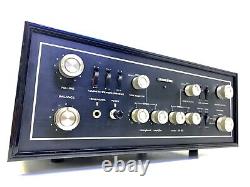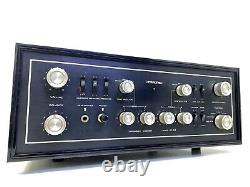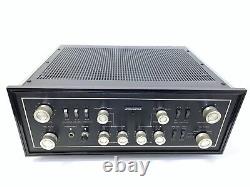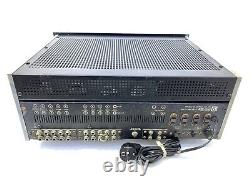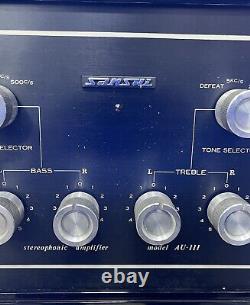 Sansui AU-111 Integrated Stereo Tube Amplifier 80WRMS Vintage 1965 Good Look. The description of this item has been automatically translated. SANSUI AU-111 Integrated Stereo TUBE Amplifier 80WRMS Vintage 1965 Good Look.
Import From JAPAN to ORIGINAL. WORKING PERFECT - on 100, 120, 220 and 240 Volts.
Yes ANSUI AU-111 Integrated Amplifier (1965). Sansui's master piece in tube technology. The output stage consists of fixed bias 6L6-GC AB1 Push-Pull via Sansui's own SW-50 output transformers with cathode feedback design.
As being Sansui's tube gear tradition, this amplifier was designed to strive for the maximum capability of 6L6-GCs with 485V plate voltage yielding 40W + 40W RMS Stereo Power with less than 0.8% THD. The control amp section consists of the cathode follower first stage followed by three amplification stages to manage sophisticated tone controls, Low/high filters, loudness and presence switches although the tone control circuit can be totally bypassed by the tone defeat switches. The phono equalizer stage adopted the solid-state circuit to improve S/N in the low level input. The AU-111 was initially introduced in 1965, and was on the market at least until 1971.
There were five known revisions, and the first generation of the AU-111 on the back ground is the rarest of all with the distinguished control knobs that were built in two parts. AU-111 started Sansui's black front panel tradition that was continued more than two decades well into 1990's. AU-111 also contributed to establish Sansui's reputation as one of the best audiophile manufacturers in the world. About the end of tube technology era, AU-777 was introduced as Sansui's first solid state integrated amplifier in 1967 followed by AU-222 and AU-555 although AU-111 was still going strong even into the early 1970's. It was very ironic that at the very end of Sansui's high-end audiophile history, Sansui reintroduced AU-111 as AU-111 Vintage in 1999 followed by AU-111G whose control section was redesigned to be suitable for SACD and DVD-Audio applications. Ichiro Ohshima who was the high-end product manager at Sansui since 1986 to 2000 mentioned that he used to enjoy AU-111 and JBL speakers combination when he started working for Sansui. About at that time, he was wishing to create amplifiers sounding like AU-111 in his career.
During the rough time Sansui went through from the late 1980's to 1990's, Mr. Ohshima was the one who struggled to maintain the Sansui's high-end amp tradition. Many of his master pieces, from AU-X111 MOS Vintage to AU-Alpha Series, indeed sound similar to AU-111.
It was not a coincident at all that who was responsible for reviving AU-111 in 1999 was Mr. Vacuum Tubes: 6L6GC x 4, 12AX7 x 5, 12BH7A x 2, 6AQ8 x 1.
Transistors: 2SC402 (2SC650) x 2. Power Output: RMS Stereo Power 40W x 2. Intermodulation Distortion: (50 + 5,500Hz) 0.8%. Frequency Response: +1-1dB, 20-50,000fps.
Power output: 40 watts per channel into 8O (stereo). Frequency response: 20Hz to 50kHz.
Total harmonic distortion: 0.8%. Signal to noise ratio: 70dB (MM), 80dB (line). Channel separation: 45dB (MM), 50dB (line). Output: 2.1V (Pre out). Speaker load impedance: 8O to 16O.
Dimensions: 460 x 170 x 345mm. 2 X 40 Watts RMS.
This item is in the category "Consumer Electronics\TV, Video & Home Audio\Home Audio\Receivers & Amplifiers\Amplifiers & Preamps". The seller is "technogold" and is located in this country: ES. This item can be shipped worldwide.
Features: Finished analog, Tube Amplifier
Warranty del manufacturer: Without warranty
Style: Amplifier integrated
Power RMS: 2 X 40 Watts RMS
Color: Black
Audio Inputs: Stereo RCA
Brand: Sansui
Type unit: Unit
Year production: 1965 - 1971
Country/Region of Manufacture: Japan
Model: AU-111
Power: 2 X 40 Watts RMS
Audio Outputs: Banana Jack
Number of Channels: 2
Amount of units: 1