Vintage CH Audio Integrated EL84/6BQ5 Tube Power Amplifier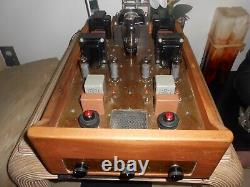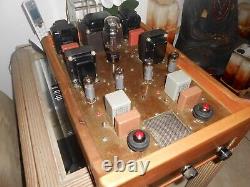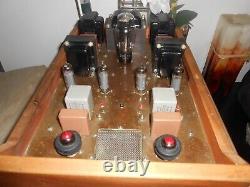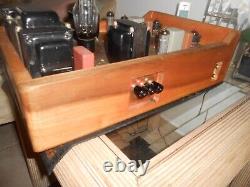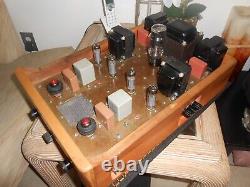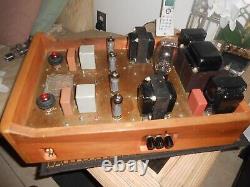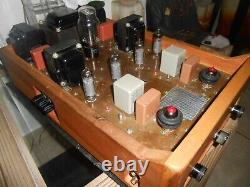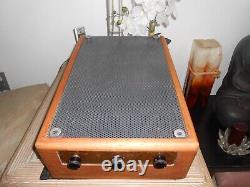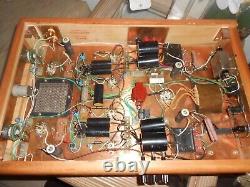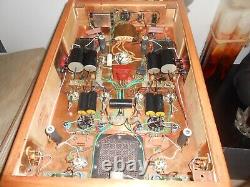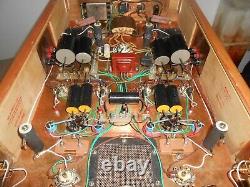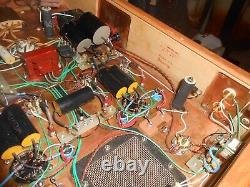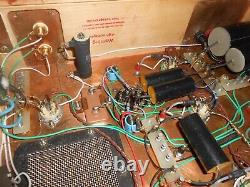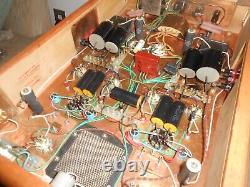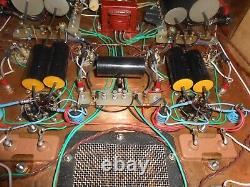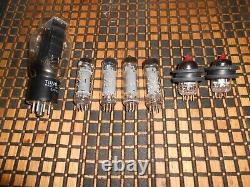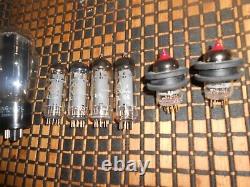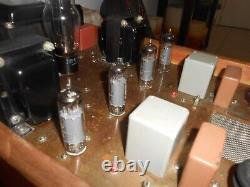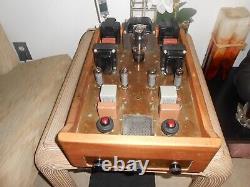 EL84/6BQ5 Tube Stereo Integrated Power Amplifier. In class AB, 4W/Ch in class A. Up for sale and for your consideration is this outstanding Vintage CH Audio Integrated EL84/6BQ5 Tube Power Amplifier in excellent working condition. The CH Audio EL84/6BQ5 is an extremely musical amplifier, that stands alone in its class (only one made) and for its age is still breathtaking to listen to.
A high-quality integrated power amplifier for high-efficiency loudspeakers. 6C45Pi high gain low plate impedance triode input tube.
Circuit transformer coupled that doubles as a voltage. Amplifier and driver, to the output tubes. Two stereo inputs are selected by the center rotary switch. Precision 24-step switch type gain attenuator controls for each channel doubles as a balance control. Bias adjustment for each power EL84/6BQ5 tube.
Choke input filtering, no electrolytic capacitors anywhere. Two stereo inputs, selected by the center rotary switch closest to the low-level voltage amplifier avoid long cable runs inside the chassis. Integrated amplifier, meaning no need for any pre-amp and cable run, need only a phono stage for your turntable and any CD, Tape deck, etc. Directly connected to the input jacks that are precisely controlled by the special step attenuator gain controls. Or=2 0can be set at a pre-determined input sensitivity with the gain controls and use your own high-quality line pre-amplifier.
The CH Audio Design 26 is the result of many years of experimentation careful listening and evaluation of many different parts and topologies until the ultimate in sound was achieved. One of the best-sounding amplifiers I had ever listened to at any price. When used with high-efficiency speakers. The sound is as sweet as a single-ended but with stronger bass and body. Simply stunning in every respect, r.
Esolution of detail is uncanny, with a vivid, transparent, "concert in your room" magic quality that is captivating, life-like performance with the body, weight, and presence. The sound stage simply fills-up your room with incredible real space and air. Fine dynamic shadings, crescendos, bass. Speed, and articulation are unrestrained, Once you listen to the CH26, you won't easily forget its magic.
It is an amplifier hand-crafted for the most discriminating listeners. Input for full output power. Wired choices of 4 and 8 Ohms or single 16 Ohms. In class AB, 4W/ch in class A.
20Hz to 25,000 Hz. Less than 3 % at full power. Two EL84 power pentodes in push-pull class A or AB.
Bias adjustment is provided for each tube. 34 ma in class AB 48ma in class A operation. Precision 24-step attenuator controls per channel. 110V / 220V Ac 50/ 60 Hz.
X 18" d x 7" h (including tubes). Tubes: All EL84/6BQ5 are Telefunken.
Single deck, all copper=2 0chassis construction with an aluminum bottom perforated cover. Solid 1/8 solid copper chassis, as you can see from the pictures needs cleaning. But nothing more since it is a true plug-and-play amplifier. All solid wood sides, back, and front with a recessed solid copper front plate. Solid anodized aluminum control knobs.
High-quality gold plated and Teflon input RCA-type jacks. All ceramic sockets with silver-plated pins. The 250V power supply includes a.
Pair of common input and smoothing chokes per. One power supply paper capacitor per channel eliminates noises and provides higher regulation and current when needed.
There are no tube phase splitters or coupling capacitors in the power section to speakers, it is all transformer coupled, this topology. Eliminates parts count and capacitor-induced distortions at all levels of amplification and results in the most natural sound, with high. Definition and lots of air and body among instruments, the closest to life like the performance I had ever experienced. He pre-amp section is coupled to the power section by a wax and paper capacitor that couples the voltage amplifier output to the.
Phase splitter for the EL84 tubes in a paraded-to-splitter configuration. The pictures will tell the rest of the story. The CH26 is built like a military tank to withstand combat. It is used (Vintage) but definitely in excellent plug-and-play condition. As I mentioned before the copper just needs cleaning.
Thanks for looking and good luck. Is only for the USA. But anything over that we will pay. This item is in the category "Consumer Electronics\Vintage Electronics\Vintage Audio & Video\Vintage Amplifiers & Tube Amps". The seller is "thecasablancagroup" and is located in this country: US.
This item can be shipped to United States.