Vintage Sherwood S5000 Series I Tube Amp with Telefunken Tubes- Completely Updated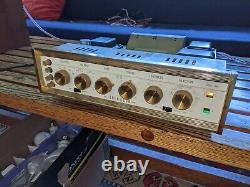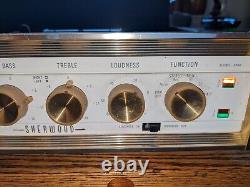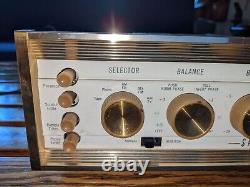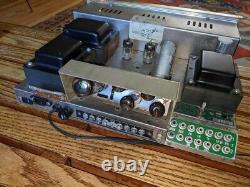 For Sale Vintage Sherwood S5000 Series I Tube Amp w/ Telefunken Tubes - Completely Updated. As I have stated previously, I think the S5000, both the first and second iterations, are some of the most underrated integrated amps out there. This must be the 5th or 6th I have located and have completely updated. All have turned out EXCELLENTLY. They are just an almost perfect vintage tube amp.
All the control you would need. They are smaller than most integrateds which can be a big help sometimes. This is perhaps the cleanest one I have seen in a long time.
Even the faceplace is pretty darn good and those things are delicate. NOTE - If you ever clean the faceplace do so GENTLY, the lettering and paint on these is very easy to damage. This one is also noteworthy for the tubes that it is configured with. All of the 12ax7's are 1959 Telefunken small diamond. All have been tested and all are within specs. This example is about as good as it gets. Controls are solid and quiet. Amp itself is very musical. Plenty of power for any efficient speakers. I had them hooked up to some 1959 University speakers and it sounded WONDERFUL and plenty loud. But MAKE SURE it has enough power for your needs (nominally this is a 20/20 wpc amp).
NOTE - DOES NOT COME WITH A COVER. Most of these don't have them as they were often console pulls. This went through a thorough, but respectful, upgrade. All the stupid or dangerous!
Stuff was taken care of but the general nature of the unit was kept intact. Note, I never just say "recapped" or "updated" I tell you EXACTLY what was done. And my tech is top notch and only uses parts he likes and trusts.
5 1959 Telefunken small diamond 12ax7's. 2 7199 matched vintage Sherwood. 1 5AR4 vintage Sherwood (I think).
4 New Russian 6p14p-EV Power tubes. All tubes are labeled for gm values. (LONG DESCRIPTION OF THE WEIRD BAR ON THE BACK- Short version, it is no longer connected/necessary). On power up the amp failed to hold steady AC voltage. Issue was traced to a faulty current limiter that appears to be a add on from the past.
Was unable to get accurate readings as the switch bar has lost it's ability to remain in the closed state due to years of on/off cycles. I don't believe this was a OEM Part from Sherwood. I found no supporting photos on any S5000 models or any info per Service manuals to prove the item was OEM.
This amp is equipped with a 5AR4 TUBE rectifier that has a built in slow turn on /current limiting feature so we really have no need at all for this added after market current limiter. However, We do have 3 holes. In this location and was for something. My guess would be the S5000 Very early models might have been equipped with a hum pot for the 9 tubes running AC filaments However, I as well believe this designed could have been canceled in favor of a center tap on this AC filament line. The holes resemble ones used on the early Sherwood 1000's For a balance pot. At the end of the day I will leave it up to who-ever wants to research this matter. And come to his or hers conclusion. This added part was removed and AC was wired direct to main power fuse.
Tightened fuse holder nut, re-flowed bad solder joints All electrolytic capacitors were replaced. One new 30 ohm 5 watt resistor replaced the original 45 ohm in the bias and phono tube filament section to retain spec voltage.
All Pots and Switches was cleaned, flushed and lubed. All power rail voltage retained within service manual specs The amp was equipped with 4 New Russian 6p14p-EV Power tubes. We now arrive at our safe 70% rule. All audio inputs and outputs was audio signal tested for 2hrs.
All pots and switches function as should. A really great sounding amp that will provide trouble free enjoyment for many years to come.
1 CE 404X2 / 20X2 525VDC MULTI CAP. 1 ORIGINAL SHERWOOD CAP REBUILT. 50uf / 150uf / 250uf 50v. 1 original multi-cap sections wired. MOD 20uF 500v / UC 22uf 450v.
1 UC 4.7UF 450V. 1 30 ohm 5 watt. (2 resistor term strip N/C). This item is in the category "Consumer Electronics\Vintage Electronics\Vintage Audio & Video\Vintage Amplifiers & Tube Amps". The seller is "drannie_98" and is located in this country: US.
This item can be shipped to United States.
Brand: Sherwood
Type: Integrated Amplifier
Model: Sherwood S5000 Series I
Country/Region of Manufacture: United States
Modified Item: Yes