Rebuilt DYNACO SCA-35 Integrated Stereo Amplifier an EL84 Tube Amp with Preamp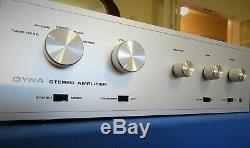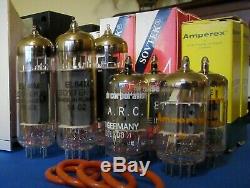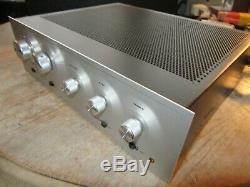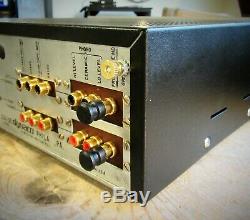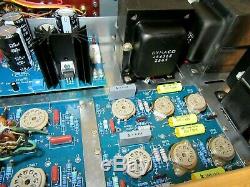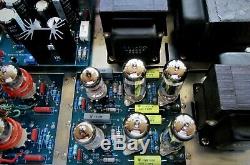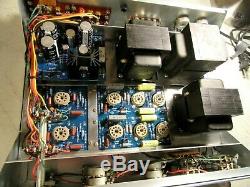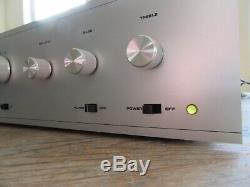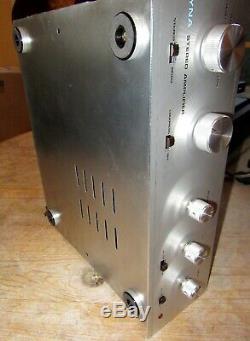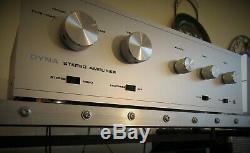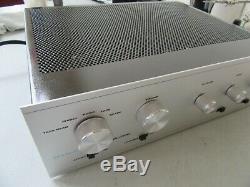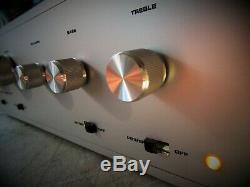 (A Tube Preamp and Tube Amp all in one unit). This Dynaco SCA-35 is audiophile grade and an easy to use, reliable and very satisfying choice.
This one particularly is very special. Not only is it fully restored and upgraded, it is perfect if you have limited space due to its compact integrated design. It is quite an experience to hear. Every component and modification was carefully chosen and completed with one goal in mind, make it better than it was.
Gillespie Designs EFB Power Supply Upgrade. Gillespie Designs PC-10A Output Board Upgrade Set. Gillespie Designs PC-11 Preamp Board Upgrade. Tubes: (2) 12AX7 / ECC83 Audio Research by EI (Telefunken), (2) Amperex 6GH8A, (4) Matched NOS Sovtek EL84M / 6BQ5WA. New Dynakit Faceplate and Knobs w/ Custom Aluminum & Rubber Isolation Feet.
All new specially selected high grade capacitors, resistors & NOS tubes. RCA jack boards with individual grounded inputs and an isolated phono input. The wider RCA jack spacing allows for use of modern RCA style interconnects / cables. Due to the wider spacing design, the 2 rarely used inputs for ceramic and high level phono have been eliminated. A great phono ground post connector.
Has been added to the back to improve turntable connectivity. Yes, there is still a standard magnetic phono input and. Pots, controls and switches deep cleaned and DeoxIt treated for accurate smooth and quiet operation. All New original style screw down type speaker terminals installed. Case is refinished in satin black, looks very nice. Scratch and dent free of course. Disassembled, scrubbed clean and the chassis was treated in an. Automotive grade protective wax to prevent corrosion. This unit is as clean as the day it was made.
This is a Tube Preamp and Amplifier all in one unit. Hook up your turntable, tape deck, tuner and speakers directly, nothing else needed! This Amp is a Push Pull Design / Configuration.
Now a True 17.5 Watts Per Channel x 2 channels. Ability to add & run a center channel speaker, instructions in the manual show you how. Laser printed copies and a CD-ROM included containing all the manuals for the unit and for the upgrades and a includes full set of related schematics and lots of specific close up wiring pictorials. Also included are the instructions for setting / adjusting the bias, it's really easy on this one. The New PC-11 board , or Preamp section has 100%.
All new specially selected capacitors and all new resistors, it also has 2 brand new Belden tube sockets for clean and positive pin contact on the tubes. The phono section is improved dramatically over the original and.
Now has a more accurate RIAA equalization curve. Meaning your albums will sound even better. This new PC-11 is a restoration board, meaning the circuit configuration is consistent with the original and outstanding Dynaco PC-11 preamp circuit board. This board uses (2) 12AX7 tubes. (2) 12AX7 / ECC83 Telefunken based tubes by EI of Yugoslavia.
These great pre-war tubes were made in the 80's using original Telefunken machinery for Audio Research Corporation, a now defunct maker of high end amplifiers and preamplifiers. The tubes are from the estate of a former audio research employee and are very rare, I was lucky to have acquired a few. They feature smooth gray plates, top halo getters and like most European tubes such as Mullard and Telefunken these tubes flash when energized, this is normal for this tube type, due to the special filament design. These are New Old Stock High Quality Tubes, tested perfect, and they sound excellent. These tubes will come white boxed, they were from a case of 100 tubes so there were never individual boxes for them.
The PC10A output / driver boards. These 2 new circuit boards have 100% all new specially selected capacitors and resistors including new tube sockets. This upgrade brings the output line stage section of this amp to a level far exceeding the original design. This update replaces the obsolete, increasingly hard to find, and expensive 7199 driver tube with either a 6GH8A or 6U8A. Either of these tubes is relatively low cost and readily available and frankly, they sound better.
Note that this is not just a tube swap. Additional components have been added to prevent stability issues that can occur when these tubes are simply used with adapter sockets in the original PC-10 board. 6U8A tubes were also used by famous amp makers like H. Scott for exactly the same purpose (phase splitter / inverter) as they are in the PC-10A.
These boards each use 2 EL84 / 6BQ5 power tubes and one 6U8A or. Driver tube, one board for each channel. The Driver / Inverter tubes. (2) Amperex 6GH8A NOS tubes made in France. These tubes occupy the position where you would normally find 7199 tubes in a stock Dynaco SCA-35.
The new boards in this amp utilize this tube, they were designed especially for it. The 7199 is becoming increasingly hard to acquire and now carries inflated prices along with being outperformed by the 6GH8A as a driver tube. Famous brands like Scott and Fisher used this tube extensively. These are fantastic tubes that sound simply amazing. These tubes flash when energized due to the special filament design, they feature boxed 2 hole smooth grey plates and a top halo getter.
They have copper rods and a chromed top and tested as strong as the day they were made. These tubes will come in their original boxes. (4) Current Matched NOS Sovtek EL84M / 6BQ5WA High Power Tubes. The EL84M is the higher power version of the EL84 also known as the 7189A.
These are great quality and powerful tubes that have a clear and creamy smooth tone. A military-spec version of the standard EL84, the EL84M boasts extended voltage tolerance, improved plate dissipation and a heavy duty robust construction making it equivalent to the 7189 tube class. The Power Supply EFB board. This replaces the filter cans (multi section filter capacitors) & all the resistors and rectifier diodes associated with the power supply. Significantly larger overall capacitance and 105 degree rated components are specified that far exceed the originals in quality and reliability.
Perhaps the most significant upgrade available for the SCA-35, the new power supply / capacitor board with EFB converts this SCA-35 from cathode bias to Enhanced Fixed Bias. Longer tube life, enhanced sound quality and much more reliable operation with improved power output is achieved. Although rated at 17.5W per channel output power, this is really only true if only a single channel is driven. With both channels driven, however, stock power output is typically closer to 14W per channel, and distortion is significantly higher as well. This is largely due to various compromises related to the use of the simple, but economical, cathode bias system.
The EFB feature, when combined with increased power supply capacity, provides an outstanding upgrade & the 17.5W rated power output is achieved and maintained with both channels driven, and distortion significantly reduced. The Power Supply & Transformers. The amp utilizes its (2) original DYNACO Z565 output transformers and its original DYNACO PA774 power transformer. They are in excellent cosmetic and working condition. These are the true heart and soul of any amp and the Dynaco's are legendary for their exceptional reliability.
Their robust build & output quality is second to none. He multi section filter capacitor, all the resistors and rectifier diodes associated with the power supply are now replaced with the new Gillespie Designs power supply / capacitor board with EFB. The EFB feature, combined with an increased power supply capacity, provides an outstanding upgrade and a true 17.5W rated power output is achieved. You can hear the difference.
This upgrade will make your tubes last much longer, sound much better, and keep things in balance and sounding excellent. All of this while making more power than in the original design, it is genius. Faceplate / Knobs / Chassis. Faceplate is a natural clear anodized aluminum piece with the familiar Blue DYNA logo & black infill engraved lettering.
All new knobs are m. Achined aluminum with a position indicator, knurled grip and set screw in natural clear anodized aluminum. Super clean rust free chassis, hand scrubbed and rubbed then waxed with. Original Amber Pilot Jewel in the faceplate illuminated with an LED bulb. RCA input / output boards with individual grounded inputs and an isolated phono input.
Gold plated RCA jacks, all new mounting hardware and a great phono ground post connector. A feature not found on the original units has been added to the back to improve connectivity. This eliminates t he unreliable and inferior ceramic originals which were too close, too small, easily broken and prone to corrosion. The wider jack spacing allows for use of modern RCA style interconnects with provisions for up to (6) inputs or any combination of inputs/outputs you choose. Due to the wider spacing design, the inputs for ceramic and high level phono have been eliminated.
The back panel now has only 1 magnetic phono input which is by a 99% margin the one used by most people and their dentists. New speaker terminals are original style replacements. This classic Dynaco sounds even better than it looks. It is truly an audiophile grade unit.
The phono section is simply superb. The simple Dynaco circuit design is just pure wizardry.
Hafler knew what he was doing. It has stunning realism, clarity, and depth you just rarely hear. The combination of the tube harmonics along with the refreshed circuitry just works like magic. Special thanks to Dave Gillespie for the upgrade boards and Kevin Devaney at Dynakit for their great products, services and support.
The amp will arrive with the bias already set for the included tubes. The tubes and the fuse will be removed and placed in their original boxes, boxes will be numbered for easy and correct installation using the included pictorial diagram. You will need to install the tubes and fuse before using the amp. Again, there will be full and easy step by step instructions with a pictorial included for you. It is really very simple, all you will need is a small flat head screwdriver to remove the cover, just 4 screws. That's it, now, enjoy the sweet sound of vintage tube audio like never before. Dynaco SCA-35 Integrated Stereo Tube Amplifier. The research used in making that determination and decision shall be done by the purchaser. As with all my vintage electronics this is an as is sale. The photos in this listing are of the actual item, it is the one you will receive. Check my feedback, I do it right.
Guaranteed to arrive in great and "as described" condition, it's what I do. I have carefully documented this items condition working, playing, etc. I have also discreetly marked various places and parts (inside and out) for identification in the event of a return.
The unit listed for sale is not new and should not be expected to look, perform or function as when it was new. I have used, described and photographed the unit to provide you with an accurate current depiction and description of this item. I will do my best to accomodate you. Speakers, reels, receiver or any other items shown are not included in this sale unless specified.
Dynaco SCA-35 Integrated Amplifier and tube set as described and pictured only. Tubes will be removed and boxed. They will be marked and a numbered tube placement diagram / instructions will be included.
Save the box and packing material in the event of a damaged item is received. Document the damage as best you can. The item offered will be tested or untested as described in its listing.
No other testing or repairs have been or will be done unless so described or stated. They are again photographed and videotaped functioning / working and to document items condition just prior to. The packing process, methods and materials are also photographed. These are vintage used items and will show various signs of use, age and storage as described. The nature of vintage electronics, items up to 75 years old and beyond, are unpredictable so keep that in mind please.
There are special needs, conditions and care needed to own and maintain vintage audio gear, please be aware of and prepared for that responsibility. Please contact me first before leaving negative or neutral feedback. If you should encounter a problem, please give me the first opportunity to make the problem right. The item "Rebuilt DYNACO SCA-35 Integrated Stereo Amplifier an EL84 Tube Amp with Preamp" is in sale since Monday, February 25, 2019.
This item is in the category "Consumer Electronics\Vintage Electronics\Vintage Audio & Video\Vintage Amplifiers & Tube Amps". The seller is "funtastic-vintronics" and is located in Coweta, Oklahoma.
This item can be shipped to United States.
Brand: Dynaco, Dyna, Dynakit
Custom Bundle: Yes
Non-Domestic Product: No
Model: SCA-35
Modified Item: Yes
Type: Integrated Amplifier
Bundle Description: DYNACO SCA-35 Amp with all tubes as described
Country/Region of Manufacture: United States
Modification Description: upgraded, rebuilt, serviced and modified as described in the item description
MPN: SCA-35