300B tube integrated amplifier (with Step attenuators) made in Hong Kong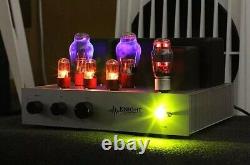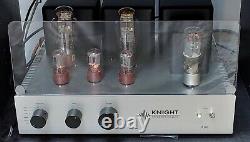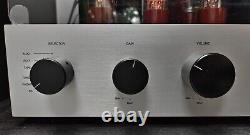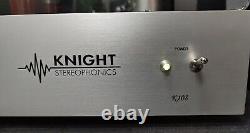 300B x2, 6SN7 x3, 5U4G. Step attenuator x2 (Gain & Volume). Homage to hi-fi's'golden age', famous 300B single-ended amplifier which is manufactured in Hong Kong by tube amplifier expert. It delivers fabulous three-dimensionality with sounds fast and explicit, especially rich, warm and syrupy midrange with thick, cuddly bass and sweet treble. In order to find out the reason of fabulous sound by this amplifier, both volume adjustment and gain control are equipped in this machine by step. In addition, top quality capacitors &resistors were assembled such as M-Cap & WIMA etc. Furthermore, important part, transformers were made by Dignity Audio (which was merged into Knight Stereophonics since early 2019). You will be no regret to equip one at home.
Additional installation service within England by GBP350; Scotland & Wales POA. Including professional suggestion in the HiFi system setup.