FISHER X-202-B Integrated 7591 Tube Amp restored, walnut cabinet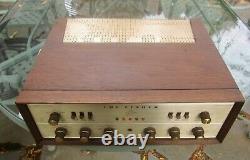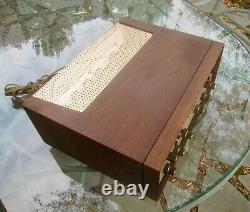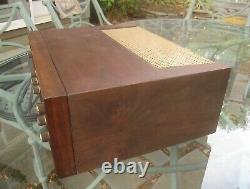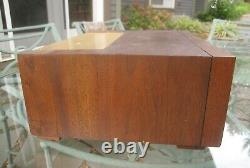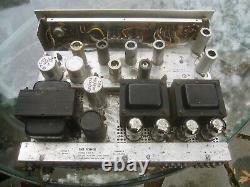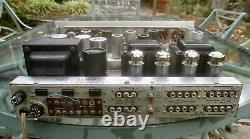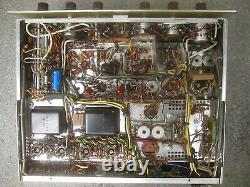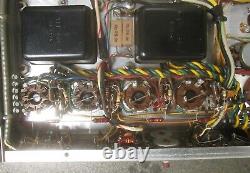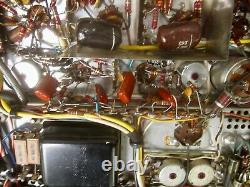 FISHER X-202-B Integrated 7591 Tube Amp - restored, walnut cabinet, 34 pounds before packing. COSMETICS: While the chassis of this unit does show some cosmetic flaws, they are obviously not visible when enclosed in its original Fisher walnut cabinet. The faceplate looks pretty good with only a couple of minor flaws: a crease in the lower left corner and a small nick on the upper edge (to the right of the letter R in Fisher). The cabinet has a new piece of walnut veneer on one side, where the prior owner had mounted an external on/off switch.
All of the jewels (lamps) on the faceplate work, and all knobs are original with the brass end caps in place. Faceplate lettering is all intact. ELECTRICAL RESTORATION: Operationally, the unit is in very good condition.
After bringing the amp up slowly on a Variac over a 24-hour period, all voltages (B+ on plates and screen grids, as well as lower cathode voltages) were checked and are within spec. There is no hum, either, further indicating that the electrolytic filter capacitors are still operating properly. One electrolytic paper cap underneath was replaced with a new one (see blue cap in photo of underside).
The original 7591 output tubes were testing low and one was missing, so I installed a brand new, matched quad of the reissue Tung Sol 7591 tubes, which are well liked and also fit inside with the cabinet in place (unlike some other brands with taller glass). Importantly, I changed the grid resistors on the 7591 grids to 200K, and the coupling caps to 0.1uF, per the recommendation of Jim McShane, who is expert in this area. His web site states: Important note! There have been some cases where the new production 7591A tubes have had trouble in circuits using a very high value grid resistor - as vintage Scotts, Fishers, and others do.
The best solution is to change all the grid resistors to 180K-200K from the old value over 300K - sometimes they even exceed the old RCA tube manual recommendation! , and change the coupling caps to. The on/off portion of the volume control switch does not work, so you will need to plug it into a power strip that has an on/off switch.
The coupling caps between the phase inverter and the output tubes were replaced with Xicon MPP (metalized polypropylene) capacitors in order to ensure proper operation at this important stage in the circuit, as well as allow non-problematic adjustment of the AC balance control that operates at this point. The original ERO coupling caps were left in place in prior stages. To reassure myself, I removed a couple of the ERO caps and tested them with my Heathkit IT-11 capacitor checker and they showed no leakage, even above their rated voltages. This brand is considered better sounding and more reliable than the coupling caps used in later generation Fisher amps. Many resistors were measured and all were found to be within spec.
This amp offers good adjustment options to optimize performance, such as AC balance, DC balance, and a Bias adjustment pot for each channel. All were adjusted to spec.
Bias is set to 0.8 volts, per the service manual. Lastly, all controls, as well as all 9-pin sockets, were cleaned with Caig DeOxit spray cleaner and are quiet in operation. 7247 tubes are Mullard, but there was a hodgepodge of weak U. 12AX7 tubes in place, so I replaced them with brand new JJ Electronic ECC83S/12AX7 tubes, which I have found to sound very good in these units and certainly cost effective. SPECS AND FEATURES: The amp is rated for 40 wpc into 8 ohms.
It has two control features that make it desirable for playing early (1950s) mono and stereo LPs. The first is a stereo/mono blend control knob on the front that allows the user to select full mono for playing early mono LPs, or adjusting to a stereo/mono blend to help center fill of the soundstage on early stereo albums that were often recorded with a hole in the middle due to hard panning of the performers to the left and right in the mixing.
The second feature for early LPs is the Columbia EQ curve. While the RIAA EQ standard was predominant, there were early mono recordings done by Columbia for which this feature will be very useful in obtaining the proper tonal balance on playback.
For todays listeners, who often prefer to add a subwoofer to their system, the summed center channel output RCA jack on the rear makes it very easy to connect to a powered subwoofer if desired. There is even a level control for this output on the front. Overall, the amp is working fine and sounding great with equal output from both channels. It will still need a bit of burn-in for the new output tubes and Xicon coupling caps to fully come on song. Owners and Service manuals are available for downloading on the HiFi Engine web site.
The item "FISHER X-202-B Integrated 7591 Tube Amp restored, walnut cabinet" is in sale since Tuesday, October 13, 2020. This item is in the category "Consumer Electronics\Vintage Electronics\Vintage Audio & Video\Vintage Amplifiers & Tube Amps". The seller is "mesh50" and is located in Hamden, Connecticut. This item can be shipped to United States.
Model: X-202-B
Country/Region of Manufacture: United States
Type: Integrated Amplifier
Brand: Fisher