H. H. Scott 299D Tube Stereo Integrated Amplifier, Massive Transformers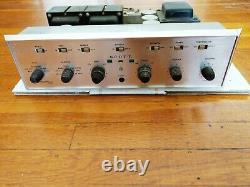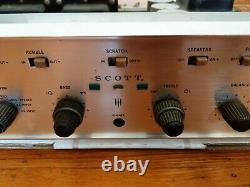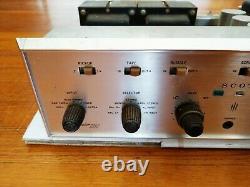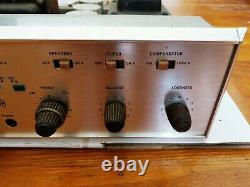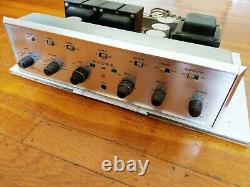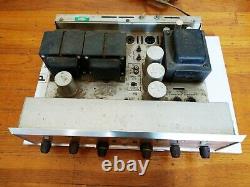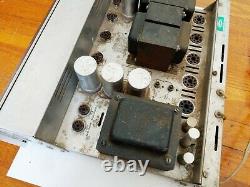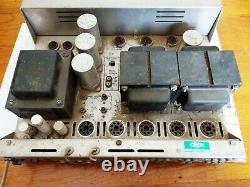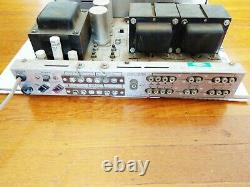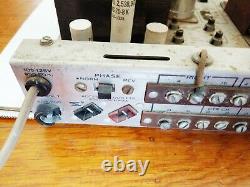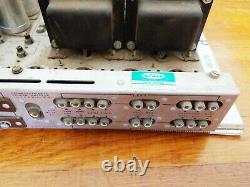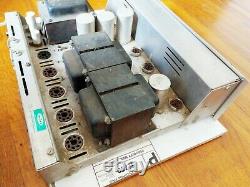 For sale is a vintage, original. Scott 299D Tube Stereo Integrated Amplifier, with phono stage. The transformers are big and massive. As shown, there are no tubes included in this sale.
Besides, the fuse holder broke off and need repair. My low asking price reflects this condition it is in. Physical condition is good for the age. The front is fine, in need of some cleaning.
Chassis has accumulated enough dust which needs cleaning too. This sale includes the amplifier itself only, as shown in the pictures. Local cash and carry is great. I have other audio equipment, like. Accuphase, Acurus, Adcom, Aragon, Arcam, Audio Research, Audioquest, Ayre, B&K, B&O, Bang Olufson, B&W, Bowers Wilkins, Bryston, California Audio Labs, Cary, Classe, Cambridge, Carver, Conrad Johnson, Creek, Denon, Dynaco, Dynaudio, Goldmund, Infinity, Jadis, JBL, Jolida, JM Lab, Kef, Kimber, Klipsch, Krell, Levinson, Lexicon, Linn, Marantz, Martin Logan, Mccormack, Mcintosh, Meridian, MIT, Musical Fidelity, Music Hall, NAD, Naim, Nakamichi, NHT, Paradigm, Parasound, Pass, Pioneer, Proceed, PS Audio, PSB, Quad, Rega, Revel, Rotel, Rowland, Sonic Frontiers, Sonus Faber, Spendor, Sunfire, Tandberg, Tannoy, Theta, Thiel, Threshold, Totem, Transparent, Vandersteen, Vmps, VPI, VTL, Velodyne.
AR, Audio, Audiophile, Amplifier, Amps, Arcam, Acurus, Aragon, Adcom, ADS, Advent, Bose, Boston, Beovox, Bryston, Bedini, B&K, B&0, B&W, Bowers & Wilkins, Celestion, Counterpoint, Canton, Cello, Creek, Cerwin Vega, Dahlquist, Denon, Dcm, Dynaco, Dynaudio, Ess, Spica, Epicure, Ensemble, Electrostatic, Elite, Fisher, Fosgate, Harman kardon , Harbeth , Integra, Infinity, JBL, Jadis, Jolida, Linn, Luxman, KEF, Klipsch , KLH, Krell, Kenwood, Martin Logan, McIntosh, Mirage, Mission, Monitor Audio, Nad , Onkyo , Paradigm, Proac, Sony, Pioneer, Polk-Audio, Preamplifier, Quad , Rogers, Rotel, Rega, Stanton, Speakers, Audio, Stereo, Studio, Vandersteen,, Snell, Spendor, Thorens, Vandersteen, Wharfedale, Yamaha, Speakers, Turntable, M&K, Accuphase, Dali, Wilson Audio, Sonus Faber, Definitive Technology, PSB, NHT, Magnepan, Eminent Technology, Monitor Audio, Vienna Acoustic, Meridian, Behringer, Acoustat, Genesis, Opera, Mirage, Energy, Pinnacle, Musical Fidelity, Sonic Frontiers, Cambridge Audio, Sunfire, Velodyne, SVS, HSU Research, Audio Research, Tannoy, Subwoofer, McCormack, Meadowlark, Conrad Johnson, Parasound, Magneplanar, Audible Illusions, Mark Levinson, Vintage, REL, Revel, Nakamichi, ESS, Emotiva. Scott 299D Tube Stereo Integrated Amplifier, Massive Transformers" is in sale since Tuesday, August 24, 2021. This item is in the category "Consumer Electronics\Vintage Electronics\Vintage Audio & Video\Vintage Amplifiers & Tube Amps". The seller is "timekinetics" and is located in Oakland, California. This item can be shipped worldwide. Scott 299D
Type: Integrated Amplifier
Brand: H.