H. H. Scott LK-48 Integrated Stereo Tube Amplifier Working Condition Read Below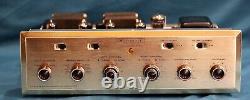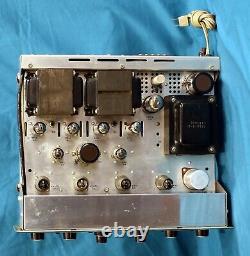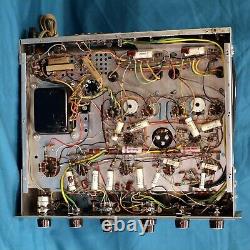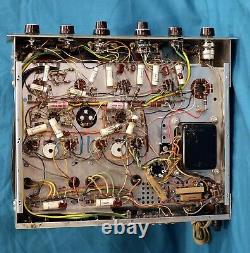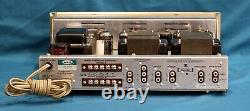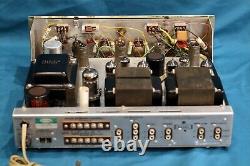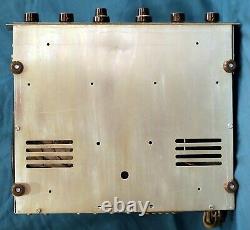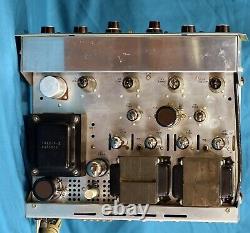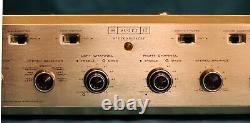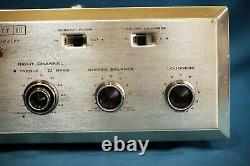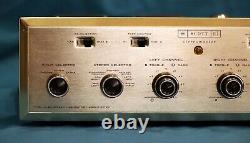 Here is a nice H. Scott LK-48 Vacuum Tube Amplifier. I did not build this kit. I acquired it years ago.
It just sat on my shelf waiting for me to restore it. It had no tubes when I got it, the balance potentiometer was missing and there was no bottom plate. I fabricated a bottom plate out of a discarded bottom from a Heathkit amplifier. I had the proper balance pot and installed that. I have no idea why the balance pot was removed because it worked fine after I replaced the missing pot.
All tube sockets were cleaned with DeOxIt D5. Controls and switches were cleaned as well.
Cosmetics are pretty good for an amplifier that is about 60 years old! All knobs are present and in good condition. The faceplate is nice with a very minimal amount of lettering missing around the Loudness control.
There are a few scratches so please look closely at the many pictures. As mentioned, there were no tubes. I put NOS USSR military equivalent tubes in for the outputs, and installed a new Sovtek 5AR4 rectifier. This model LK-48 uses 7199 Driver/Phase Inverter tubes. Good used tubes were installed in those locations.
As you may know, Scott only used the 7199 early on; switching to 6U8/6GH8 tubes in subsequent versions. Preamplifier tubes are a mix of 12AX7 tubes, but none are Telefunken.
They all perform very well. I would doubt that anyone could tell the difference in a blind "Taste Test". Both B+ electrolytic capacitors were leaky and replaced with new JJ capacitors. Spot testing of the American Radionic Ceracaps found them to not be leaky, so they may be Mylar. Upon first power up, the amplifier worked well except for distortion in one channel. That was traced output tube V-10 not lighting up. The tube socket would not make proper contact with the filament pins of the tube. Therefore, the socket was replaced with a new socket. The Siemens Selenium bias bridge was weak, so it has been replaced with a silicon bridge. That brought the bias and filament voltages up to the correct value. Lastly, you will notice that the output transformers are slightly different from each other. But they are both the correct and same vintage. There is no evidence of them being changed, so I guess Scott supplied them to the kit builder that way. I mention all of the items that are observed so that there are no surprises. Please look very carefully at the pictures provided and read all of the description. It's not a museum piece but it sure does work well for its age. I have no control over how this amplifier will be connected and used by the next person. Parts are 60 years old. Scott never intended for his products to be out there in use all of this time! Signature will be required because of Porch Pirates and Scams that are out of control. Again, Please Ask Questions First!!! I don't want you to be disappointed. I have pointed out everything that I know about. Scott LK-48 Integrated Stereo Tube Amplifier Working Condition Read Below" is in sale since Tuesday, August 3, 2021. This item is in the category "Consumer Electronics\Vintage Electronics\Vintage Audio & Video\Vintage Amplifiers & Tube Amps". The seller is "leben_ava" and is located in Fernandina Beach, Florida. This item can be shipped to United States.
Scott
Type: Tube Amplifier
Model: H.