Magnavox 9302 Tube Amp Rebuilt & Modified Fully Integrated (CLEARANCE)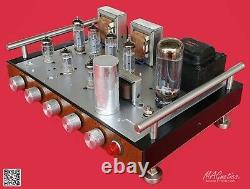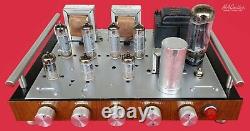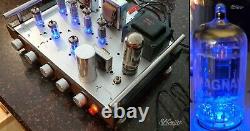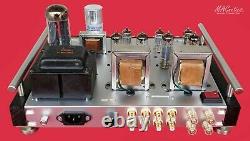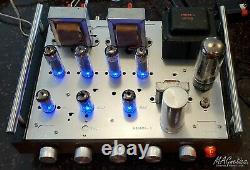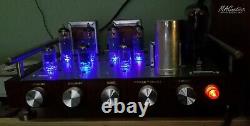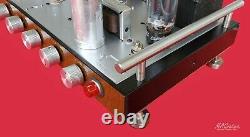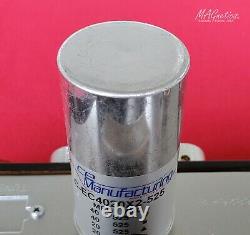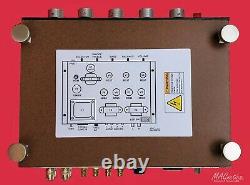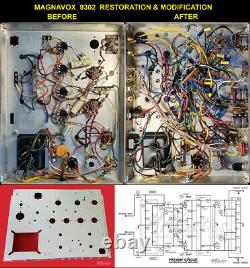 Is this vintage Magnavox 9302 console tube amp that has been professionally. Rebuilt (not just restored), modified and upgraded by MAGnetics AudioT. This Magnavox 9302 was stripped to a bare steel chassis (see photo) and rebuilt from the ground up. This Maggie is not only a "stand alone" unit, but is now a fully integrated 8 tube stereo audio power amplifier (15W per channel).
It includes both the original 9302 power amp and the pre-amp (as originally designed by Magnavox) as well, with all the associated controls, including volume. It has been thoroughly tested and "burned in" for several hours to ensure that all operating parameters meet or exceed OEM specifications. All tubes have been tested and the 4 power output tubes are matched (2 pairs, configured "push-pull").
As is usually the case, the console's pre-amp and tone controls (including the volume), were located inside the tuner chassis, not the amplifier chassis. So, unlike most typical console amplifier restorations, this 9302 has been reunited with its matching pre-amp circuit formerly located in the tuner. Since the original Maggie 9302 chassis is generously sized and already had an empty tube socket hole labeled "6EU7" (for use in other equipment designs that Magnavox manufactured), the extra pre-amp tube, controls and circuitry, were easily accommodated. It's all "under the hood" of this now fully integrated, high fidelity, stereo tube amplifier that's plug and play and ready to go. Just connect a set of speakers 4.
, up to 4 (selectable) line inputs of your choice and enjoy the rich, sweet sound of vacuum tubes. This fully integrated Magnavox 9302 not only sounds great, but it looks great too. Each 9 pin vacuum tube is illuminated with a blue LED, to give it a great "steam punk" look, if you want. If not, they can be turned off with the flick of a switch (see photo). A front panel face plate and bottom panel (with tube layout diagram attached) have also been custom fabricated.
The professional rebuild of this Magnavox 9302 includes the following upgrades and modifications. Removed all existing components, above and below chassis with all associated wiring, to strip the steel chassis down. To bare metal (see photo).
Discarded all existing tube sockets, wires, connectors, resistors, potentiometers, capacitors, and multi-section. Punched new holes in rear of chassis for AC connector, ground terminal, fuse holder, 8 (4 pairs) of gold plated, heavy. Duty RC input connectors, 4 (2 pairs) of professional grade, gold plated 5 way speaker binding posts.
Punched new holes at front of chassis for amplifier controls Volume, Balance, Bass, Treble with Power Switch, Source. Fabricated steel covers for all unnecessary, previously existing chassis holes. Cleaned and refinished bare steel chassis.
Installed neoprene grommets into all chassis holes that choke and power transformer wires pass through. Rebuilt power supply using original power transformer, but replacing all other components, including the 4 section. Electrolytic filter capacitor can (brand new by CE Manufacturing, see photo). Installed new chassis ground terminal (Marantz 2220b type), EIC power connector 3 wire grounded power cord is. Included, fuse holder (with 2A slow blow fuse), power switch (part of treble control), line filter safety capacitor (Y2X1). And an NTC thermistor (inrush current limiter). Completely rebuilt and rewired amplifier, using all new Belton Micalex tube sockets including an additional 9 pin tube.
Socket for pre-amp tube, 4 section electrolytic capacitor can, new tone capacitors and new carbon film resistors. The existing power transformer, filter choke and output transformers were re-used after cleaning and testing. Installed 2 new 750 O , high quality Clarostat potentiometers for hum and balance controls.
Built and Integrated an entire 6EU7 pre-amp circuit into chassis (per the console tuner design), including. Volume control mounted to front panel of chassis.
Bass control mounted to front panel of chassis. Power/Treble control mounted to front panel of chassis.
Fabricated and installed filtered, low voltage rectifier circuit under chassis, including load resistor for LEDs. Installed a blue LED under each 9 pin vacuum tube socket (7 total).
Installed power switch for LEDs on top rear of chassis. Installed a 4 position rotary selector (source) switch mounted to front panel of chassis. Fabricated wooden side boards and secured to chassis. Fabricated custom face plate and secured to front panel.
Mounted left and right stainless steel side rails, using four (4) threaded rods. Fabricated and Install chassis bottom (including tube layout diagram), secured with four (4) stainless steel feet.
Mounted new knurled, solid aluminum knobs, with felt friction washers, on all 5 front panel controls (1/4 shaft). Tested and installed all 8 vacuum tubes. (1) 5U4GB rectifier tube (Westinghouse). NOTE: TRIAD 5U4GB shown in photos, was replaced by Westinghouse 5U4GB.
(3) 6EU7 amplifier tubes (all Magnavox). (4) EL84/6BQ5 beam power tubes (all matched Magnavox, made in Germany, with identical EIA codes - 1022-313). You can see (and hear) a demonstration of this beautiful amp on this short YouTube video I made. Demonstration: Fully Integrated, Custom Magnavox 9302 Amp - YouTube. Video will open in a new window.
This Maggie is a rare beauty that doesn't come up for sale very often. These amps are usually commissioned and custom built for an individual private party. The asking price is not only significantly lower than what the usual commission price normally is, but it has been further discounted for a 2022 clearance.
Top notch materials, meticulous workmanship and a lot of man/hours have gone into this project, so don't let it slip away. They are high resolution so look at them carefully. Not shown in the photos, but included in this listing is a 6 foot, 3 wire AC power cord and a schematic diagram of the complete amplifier showing all modifications. If you have any questions, please don't hesitate to ask. This item is in the category "Consumer Electronics\Vintage Electronics\Vintage Audio & Video\Vintage Amplifiers & Tube Amps".
The seller is "chip2020" and is located in this country: US. This item can be shipped to United States.
Model: Modified Model 9302-00
Modified Item: Yes
Country/Region of Manufacture: United States
Type: Tube Amplifier
Modification Description: 1) Fully integrated amplifier by adding 6EU7 pre-amp tube with all associated circuits and controls.\n\n2) Considerable mods to chassis.\n\n3) Adding rectifier circuit with LED lights in the tube sockets.