McIntosh MA2275 All Tube Integrated Amplifier, Super Rare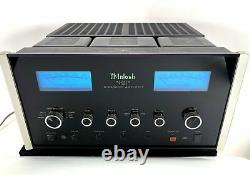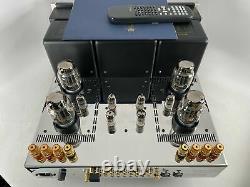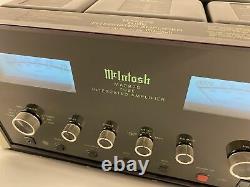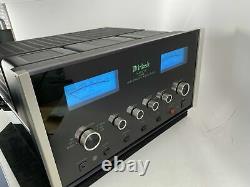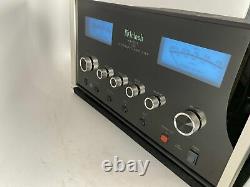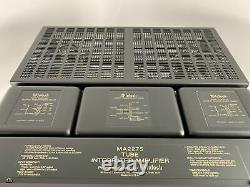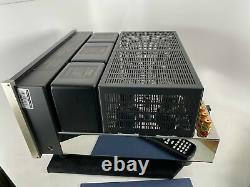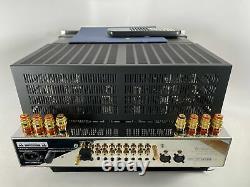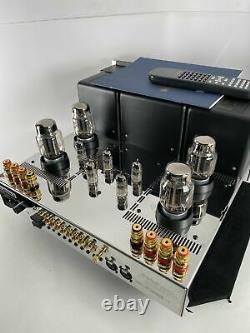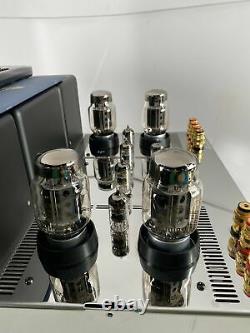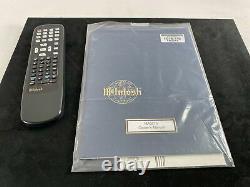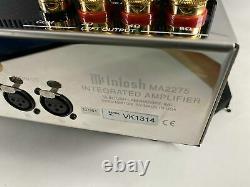 No mid-fi, no gimmicks, no junk. Each piece of equipment is cosmetically restored and fully tested in our well-equipped lab by an engineer with 30+ years of experience in the HiFi world. Through our sister company, which is an authorized dealer for McIntosh, Audio Research, Sonus Faber, ClearAudio, Project, and Sony ES, we have access to OEM parts, service, and support. I've been back and forth over the past few months if we should offer up this MA2275 for sale, or keep it in our private collection.
You see, the MA2275 is a sort of rare bird in the world of McIntosh for the following reasons. 1 Low production numbers and scarcity. At the time of writing this listing there are zero other units I could find. The last known sale we found in the US goes back almost five years to 2017.
2 This is the only ALL TUBE integrated McIntosh ever produced in its long history. Sure there are plenty of integrated models, but they are mostly solid state or hybrid solid state and tube designs. 3 The MA2275 uses tubes for ALL stages, not just the output.
Most integrated tube amps resort to transitors for the preamp stage to keep costs down. Even the phono stage is tubed! 4 This is a complete collector set including the original McIntosh carton, packing, manual, AND remote. 5 Great reviews, Google HiFi Review and MA2275 for one of many examples.
6 The MA2275 is based on the legendary MC275 amplifier with the addition of 2 ohm speaker taps, making it capable of driving even the most difficult loads. If you're a collector or someone that must have a fully tubed integrated, the MA2275 might be right for you. Cosmetic condition is very good with little signs of use. Functionally it just received a light service and is working properly.
Here are the notes from our in-house tube guru: Service: Cleaned all controls. Power testes both channels up to 75W - Clean. Calibrated Meters for 0dB reading at 75W - Success. Set color controls to identical positions. All inputs and controls tested.
The MA2275 has two separate power amplifier channels, each capable of 75 watts into 2, 4 or 8 ohm Loudspeakers. Bifilar Wound Transformers and Output Circuit. The Power Output Circuitry utilizes the famous McIntosh Patented Unity Coupled Circuit with a Bifilar Wound Output Transformer for low distortion, extended frequency response and cool operating output tubes. The MA2275 has five Inputs for high level program sources and one Phono Input for a Moving Magnet Cartridge.
The Bass and Treble Control Circuit Elements can be removed from the Signal Path. Gold Plated Connectors and Tube Socket Contacts. Gold Plated Input Jacks and Output Binding Posts provide trouble free connections.
Ceramic tube sockets with gold plated contacts provide protection from atmospheric contamination. Output Tube Sockets include Air-Pipe cooling at their bases. The Stainless Steel Chassis with Super Mirror Finish ensures the pristine beauty of the MA2275 will be retained for many years.
Minimum sine wave continuous average power output per channel, both channels operating is: 75 watts into 2 ohm load 75 watts into 4 ohm load 75 watts into 8 ohm load. Maximum Total Harmonic Distortion at any power level from 250 milliwatts to rated power output is: 0.5% for 2, 4 or 8 ohm loads. +0, -0.5dB from 20Hz to 20,000Hz +0, -3dB from 10Hz to 50,000Hz.
Phono: 2.5mV for 2.5V rated output (0.5mV IHF) High Level: 250mV for 2.5V rated output (50mV IHF) Power Amplifier Input: 2.5V for rated output. A-Weighted Signal To Noise Ratio. Phono Input: 80dB below 10mV input High Level: 93dB below rated output Power Amplifier: 100dB below rated output. Maximum Intermodulation Distortion if instantaneous peak output does not exceed twice the rated output, for any combination of frequencies from 20Hz to 20,000Hz is: 0.5% for 2, 4 or 8 ohm loads. Phono: 47K ohms, 65pF High: Level, 22K ohms.
Phono: 90mV High Level: 8V. Phono: 8V High Level: 8V Main Out: 8V at preamp output. High Level to Tape: 0dB High Level to Main: 20dB. US, 120 Volts, 50/60Hz at 3.6 amps. 2 x 12AX7A Phono Circuitry 2 x 12AX7A High Level Circuitry.
2 x 12AT7 4 x KT88/6550. Width is 17-3/4 inches (45.09cm) Height is 10-1/8 inches (25.72cm) including feet Depth is 18-3/4 inches (47.63cm) including the Front Panel and Knobs. The SkyFi Testing Process for Tube Amplifiers. We start with a visual inspection of all internal components to make sure there are no signs of stress or aging.
Capacitors are checked for telltale sings of bulging or leaking, resistors are checked for signs of overheating or cracking, and tubes are inspected for signs of stress overheating or cracking. We then power up the unit carefully and run a simple 1k sine wave while monitoring the output on an oscilloscope for signs of distortion or noise. Finally we run the amplifier to its full rated power into the appropriate resistive load provided by our Sencore amplifier tester. If there is an issue, it will usually be noticeable at this point. If it all looks clean we will often test for THD (Total Harmonic Distortion) measured by our Keithley distortion meter, and compare it against the original manufacturers specifications.
The amplifier the remains powered on to "burn in" on our test bench for a few hours to make sure there are no heat related issues. If there are balanced inputs available they will also be tested. We also test all tubes for output gain and leakage on our calibrated and professional modern tube tester against the original manufacturers specifications. If needed, the tubes will be replaced from our vast NOS (New Old Stock) vintage or modern inventory. Final testing involves pushing actual music thorough the amplifier.
We've learned over time that some issues are only noticeable to a trained ear while listening to familiar source material. Our test bench has reference vintage KEF speakers that we're very familiar with which quickly reveal any discrepancies. Some amplifiers will then move into our listening room where they are tested with our in-house reference speakers of choice. The item "McIntosh MA2275 All Tube Integrated Amplifier, Super Rare" is in sale since Tuesday, September 14, 2021. This item is in the category "Consumer Electronics\TV, Video & Home Audio\Home Audio\Receivers & Amplifiers\Amplifiers & Preamps". The seller is "skyfiaudio" and is located in Glen Rock, New Jersey. This item can be shipped to United States.
Brand: McIntosh
Type: Hi-Fi Amplifier
Model: MA2275
Number of Channels: 2
MPN: MA2275
Country/Region of Manufacture: United States