NEW Wright Audio SE6 Tube Single-Ended Stereo Integrated Amplifier USA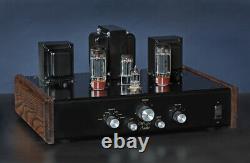 Creator of Fine Stereo Equipment for the Discriminating Listener. The Wright Audio Royale SE Series 6 Integrated Amplifier is an'all-in-one', single-ended, triode-connected tube stereo amplifier.
It is characterized by a much more vivid, clear and harmonically-rich sound with greater dimensionality than solid-state, Class D or higher-powered'push-pull' amplifier types. It accepts six analog sources of any type except phono and utilizes only four tubes. A separate phono preamplifier stage is required for use with a phono cartridge. The amplifier is compatible with all modern digital sources as long as an analog output is provided. The Royale SE6 Integrated Amplifier provides greater clarity and more dynamics than other tube single-ended designs.
This is due to a careful selection of parts. A circuit topology and operating parameters all chosen for sound quality through extensive listening tests. A custom-made, matched-channel Alps conductive plastic volume control, polypropylene and foil capacitors and output transformers created for wide bandwidth and high resolution have been employed.
The amplifier requires no maintenance or adjustment other than normal tube replacement. The music signal directly passes through just two capacitors and two very high-gain vacuum tubes to preserve the integrity of the signal source. There are no solid-state devices, integrated circuits, transistors or circuit boards in the amplifier. The Royale SE6 Integrated Amplifier features.
3 fixed-level, switchable outputs which can be used for a separate stand-alone headphone amplifier and for'whole house' music distribution using an external Bluetooth adapter as well as for recording. The Wright Audio Royale SE6 Integrated Amplifier will suddenly involve you more intimately with the music you love. The ideal speaker pairing is with the Wright Audio Companions High Efficiency Mirrored Speakers. 7 watts per channel output.
Frequency response: 25 to 30,000 cycles, within 1 db. Tube Complement: (1) ECC83 / 12AX7, (1) GZ34 / 5AR4, (2) EL34, 6CA7, or KT77 tubes connected in triode mode. Controls: Power, Input Selector (Spare 1, CD, Tuner, Tape, Video, Spare 2), Left and Right Channel Level Presets (eliminates the'half-set' Balance control resulting in better sound), Volume, Record 1, 2, 3. Accommodates all standard analog line-level sources or digital sources with an analog output. For Phono use, a separate phono preamplifier stage is required.
Three switchable fixed RCA outputs which can also be used for a stand-alone headphone amplifier, a'whole house' transmitting system such as Bluetooth or recording. Vacuum tube, choke filtered power supply provides the highest resolution, most pure sound and slow warm-up for longer parts life.
Speaker Outputs accommodate 4 and 8 ohm speaker impedances. High quality RCA jacks and heavy-duty, 30-amp rated, 5-way speaker binding posts accept banana plugs. RoHS compliant parts used where applicable. No circuit boards used for ease of installation of upgrades.
Glossy, black-anodized aluminum heavy-duty chassis (one-eighth inch thick top panel) for lowest electrical and mechanical noise. Size: 16 1/4" W x 13 3/4" D x 9 H. 120 volt 50/60 Hz operation. Designed and Assembled in the U. A High Level of Value or Excellence. Wright Audio's designs extract the maximum audio quality that only tube technology can provide and does so at reasonable cost. The Most Useful Features - Wright Audio amplifiers have the switching and control features to satisfy the most demanding installations. Compact Designs - Wright Audio's amplifiers can fit anywhere. Non-Obsolescent Construction - Wright Audio's designs use only commonly available tube types, operated conservatively, and are user replaceable. Amplifier designs using limited production run tubes or discontinued tube types so common among other brands is not acceptable. Hand-wiring means that parts and circuits can be changed or upgraded at any future time by Wright Audio without entire product obsolescence. Reliability - Wright Audio amplifiers are so well-constructed that they carry one of the strongest Warranties. Because they are made in the United States, service can be quickly and competently obtained if required.
Our listening criteria: Proper attack and decay of no. Tes, rich, correct harmonic structure of instruments, purity of tone without edginess, dynamic shading between loud and soft, and full dimensional display of instruments.
The contents of this listing (c) 2023 Wright Audio.