Peachtree Audio nova 220SE Integrated Amp / DAC / Headphone Amp Tube Buffer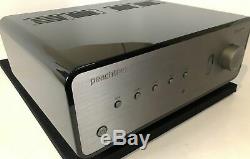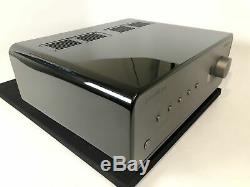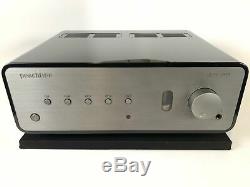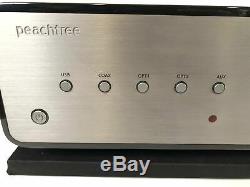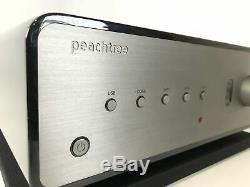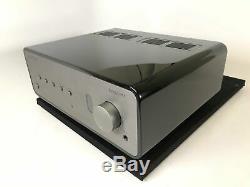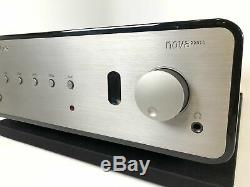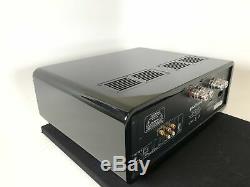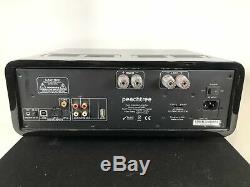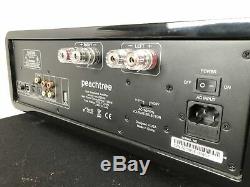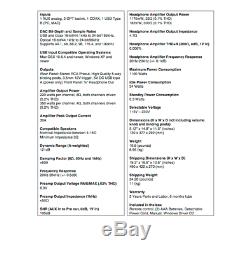 Driven by our passion for the best high-end audio and music experience possible in your home, we are retailers of the worlds very best HiFi brands such as Bowers & Wilkins (B&W), McIntosh, and Sonus Faber, and will work with you to customize your individually perfect listening experience. Very cool piece from Peachtree Audio with no scratches or signs of use. Does not include the remote, but you should be able to source a replacement from Peachtree if you desire. Nova220SE - Power and Finesse The nova220SE is an integrated amplifier, DAC, and headphone amp all rolled into one. Its combination of high output power, transparent sound, and digital and analog connectivity makes it simple to enjoy all of your music with uncompromising quality.
With five inputs, including 24/192 Asynchronous USB , you can enjoy computer and streaming audio with incredible high fidelity sound. Powerful Amplification 220 watts per channel 8 350 watts per channel 4 High Resolution 24-bit/192kHz DAC with reclocking to minimize jitter 24/192 Asynchronous USB input for high performance computer audio Optical and coax digital inputs to upgrade digital music streamers like Sonos and Apple TV Pure analog input for your turntable/phono preamp, tuner, SACD player Audiophile-quality headphone amplifier for high-performance headphones Selectable triode tube buffer for more natural sound. The nova220SE has a distinct industrial design that fits naturally in the home. The high gloss black cabinet is hand-sanded and made from wood sourced from sustainable resources. The front panel is crafted from thick six-millimeter brushed aluminum with engraved logos and input labels so theyll never wear off.
A glass window gives a view of the triode tube, which is illuminated by a blue LED when engaged. These are some of the simple touches that provide pride of ownership in an age of disposable hardware. Peachtree amplifiers are rated all channels driven from 20Hz to 20kHz (full bandwidth of human hearing) to provide real world power ratings. Featuring a blockbuster amplifier that delivers up to 350 watts per channel (4), the nova220SE has power to spare.
The amp in the nova220SE is twice as energy efficient as traditional amplifier technologies, leaving no need for expensive heatsinks or noisy fans that add unnecessary bulk and cost. Whether you enjoy your music at low volumes or want to feel every note, the nova220SE provides the power and headroom needed to appreciate your musics full dynamic range.
The nova220SE has a built-in 24-bit/192kHz digital to analog converter. Using ESS Technologys patented Hyperstream Modulator, the DAC in the nova220SE is capable of 100% jitter rejection for maximum fidelity.
Any digital source, from an old CD player to a computer to a streamer such as Sonos or AppleTV, can be instantly upgraded. Even compressed audio files sound shockingly good when run through the Peachtrees DAC, so you can maximize the fun of streaming music from Pandora or concerts on YouTube! Lossless studio master 24-bit files can be played back with sound quality above and beyond old-school CD's.
The nova220SE's discrete Class A preamp reproduces clearer micro-detail, decay and texture, which makes listening to your favorite music even more immersive. Because every signal is routed through the preamp it is a critical part of the signal path. The nova220SE benefits from trickle down technology by using the discrete Class A preamp stage found in Peachtrees top-of-the-line Grand Series. The preamp delivers a balanced signal to the internal amplifier for the highest quality possible. The nova220SE includes Peachtrees signature triode tube buffer to soften bright recordings and create a more natural sound.
The tube buffer can be engaged or bypassed on the fly with a simple button press on the included remote control, allowing you to listen in either pure solid state or tube mode. A Russian 6N1P military tube (6922 variant) specifically chosen for its consistent reliability is installed and will provide years (average 10,000 hours) of enjoyment. The tube is user replaceable and replacements are readily available.
Experience the joy of tubes without the hassles. More than just a headphone jack, the nova220SE includes a dedicated headphone amp to deliver ten times more power than what you get out of your smartphone or computer. Delivering over 1,000mW of power, ultra low distortion and low output impedance - your headphones will sound better than ever.
Its a truly awesome experience on your head. Optional BT1 aptX® Bluetooth Music Receiver. Compatible with both iOS and Android devices, you can stream audio from all of your favorite apps like Spotify, Pandora, Sirius XM, TuneIn Radio and more.
The BT1 is designed to work perfectly and easily with your Peachtree Audio SE series integrated amplifier. I think the nova220SE deserves recognition as one of the benchmarks in its class. Best of all, it offers the elusive and desirable combination of sonic finesse and dynamic cloutqualities that free listeners to explore virtually any sort of loudspeakers they might wish to try.
For these reasons and more, I think the nova220SE makes a great place to start (or perhaps conclude) a quest for high-end sound at a sensible price. The item "Peachtree Audio nova 220SE Integrated Amp / DAC / Headphone Amp Tube Buffer" is in sale since Monday, December 23, 2019. This item is in the category "Consumer Electronics\TV, Video & Home Audio\Home Audio\Home Audio Components\Other Home Stereo Components". The seller is "stereoex" and is located in Glen Rock, New Jersey. This item can be shipped to United States.
Brand: Peachtree Audio
MPN: nova 220SE
Model: nova 220SE