PrimaLuna Prologue Premium Integrated Amplifier Ex Demo, Fully Boxed, Warranty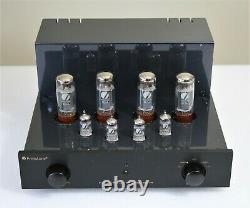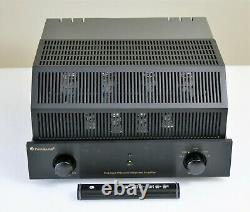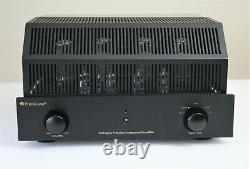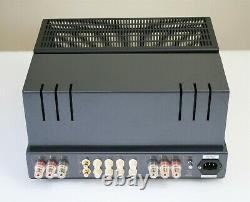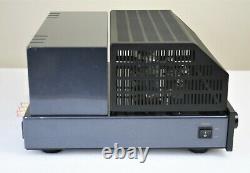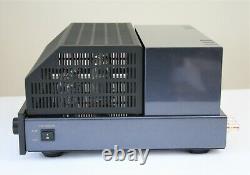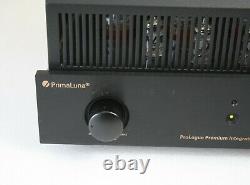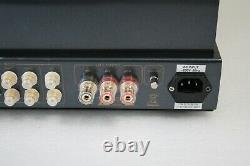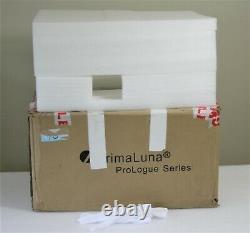 PrimaLuna Prologue Premium Integrated Amplifier. Some small marks to the finish (see photos) - otherwise condition is excellent. Compare it for the things that really count. Build quality like point to point wiring. Premium parts like an Alps Blue Velvet Volume control. Custom-wound output transformers for super-wide bandwidth and REAL bass that has punch and follow-through. Engineering like Adaptive AutoBias, Bad Tube Indicator, Super Quiet Relay source selection instead of cheap switches, and SmartWatts which assures you no headaches that for years have been associated with tubes. No longer will you be a slave to worry about how much time you left your amp on. You can compare the sound and it will become immediately apparent. But if that's not possible, don't worry. The most well-known experts in audio have done it for you.
While most products you read about get good reviews, they don't get chosen by the experts for their own personal use. Bob Deutsch, an expert in audio and a well-known senior reviewer at Stereophile magazine, reviewed the ProLogue Premium in 2012. Not only did he give it a great review, he loved it so well he asked if he could continue to use it for writing reviews of top-name loudspeakers. For years now it's been mentioned in the pages of Stereophile, but in one 2015 review in particular, he really summed it up by saying. Ever since I reviewed PrimaLunas ProLogue Premium, for the June 2012 issue, it has been the model I turn to when I wanted a moderately priced integrated amplifier to try with a new speaker.
Did he say Martin Logan Montis? Just like in solid state, you can have a 100 watt receiver and it doesnt sound as good as a high quality 50 watt amp. As an experienced audiophile, you probably already know that power has nothing to do with sound quality. Speaker reviews written by a qualified professional using a 36 watt amp.
Welcome to the world of educated buyers. The ProLogue Premium was designed in Holland by Herman van den Dungen, and, like most audio products these days, it's manufactured in China. According to Kevin Deal of Upscale Audio and PrimaLuna USA, PrimaLuna's North American distributor, the engineering of the Premium began with a circuit design in which nothing was taken for granted, and the components selected are of a quality not normally seen in cost-conscious designs. Nichicon and Solen polystyrene and tin-foil capacitors.
Alps motorized potentiometer (said to be 10 times the cost of lesser parts). Toroidal power transformer, manufactured in-house. Capacitor-plus-choke power supply, designed to eliminate both low-frequency ripples and high-frequency hash.
Custom-designed output transformers, manufactured in-house. Heavy-gauge, ventilated chassis with a five-coat finish. Construction by hand and point-to-point wiring.
The tubes supplied with the ProLogue Premium are SilverLabel, according to Upscale Audio's classification, and are said to be already "special" compared to standard tubes on the market. Other tubes, including cryogenically treated ones, are available from Upscale. The ProLogue Premium has a number of specific, trademarked circuits designed to optimize performance and prevent damage to the amplifier in the event of a malfunction. Adaptive AutoBias (AAB) monitors and adjusts bias constantly. AAB was present in previous PrimaLuna amplifiers, but the latest version is said to include more extended output-stage protection circuitry, to safeguard the output transformers, resistors, and high-voltage power supply in case a tube fails.
Bad Tube Indicator (BTI) is what PrimaLuna calls the red LED next to each output tube, though BTI is not quite what its name implies. A lit BTI LED indicates that the tube is drawing more power than it should; however, this condition may be only temporary, and not necessarily indicate a bad tube. If the BTI comes on, you're advised to turn off the ProLogue Premium, wait a few minutes, and turn it on again.
If no BTI LEDs light up, you're fine. It's only when the indicator stays on that the cause is likely a bad tube, which must then be replaced.
During the review period, there were a few instances of a BTI coming on, but each time, turning the amplifier off and then on again fixed the problem. Power Transformer Protection (PTP) is a thermal switch built into the AC transformer. If the internal temperature gets too high, the AC is switched off automatically, coming back on again when the problem is resolved. This never happened during the review period. Output Transformer Protection (OTP) protects the output transformers from high-voltage transients.
Power in my system is supplied by a PS Audio PerfectWave Power Plant 5, which is designed to protect against transients of this sort; in any case, there were no problems in this area. SoftStart is yet another protection circuit, designed to extend the life of sensitive components and reduce the chance of tube failure from thermal shock. The basic design of the ProLogue Premium follows tried-and-true principles: the output stage runs in Ultralinear mode, and tubes run well below their maximum ratings. Like other products in PrimaLuna's Premium range, the ProLogue uses double 12AU7s in each channel rather than the earlier combination of 12AX7 and 12AU7. This is said to result in much lower distortion in the first stage.
Conclusions and System Building Built to a high standard, the PrimaLuna ProLogue Premium offers outstanding sound quality at a very reasonable price. Audiophiles often complain about how expensive this hobby has becomeand not without justification. What tends to be forgotten during the expressions of outrage about high prices is that if you ignore equipment at "crazy prices"and, of course, each of us has his or her own idea of exactly where "craziness" beginsours is a great age for the cost-conscious audiophile. If you do your homework on what's available, read the reviews, and visit dealers who make a point of offering their customers value, you can assemble a system for a reasonable price thatwith attention paid to component matching and setupcan offer sound quality that comes close to the cost-no-object. The ProLogue Premium would be an excellent component around which to start assembling such a system.
I found it combined well with speakers as disparate as the Avantgarde Uno Nano, GoldenEar Triton Two, and MartinLogan Montis. The ProLogue Premium also allows some fine-tuning to match the speakers: there's a choice of output terminals (8 or 4 ohms), switchable power-tube bias, and a choice of power tubes (EL34 or KT88). At the next system price level, the obvious partnering loudspeaker for the ProLogue Premium is the GoldenEar Triton Two.
Further improvements could come from upgrading the digital source I'd first check out Oppo's BDP-95. Yes, this is a great time to be an audiophile. Description: Tubed, remote-controlled, stereo integrated amplifier. Tube complement: four 12AU7, four EL34 or KT88. Inputs: 4 pairs RCA, 1 pair HT bypass.
Outputs: 4 and 8 ohm transformer taps. Maximum output power: 35Wpc with EL34s (15.6dBW), 40Wpc with KT88s (15.9dBW). Frequency response: 20Hz30kHz, ±0.5dB.
58 49 32 - 21. The item "PrimaLuna Prologue Premium Integrated Amplifier Ex Demo, Fully Boxed, Warranty" is in sale since Sunday, May 16, 2021. This item is in the category "Sound & Vision\Home Audio & HiFi Separates\Amplifiers & Pre-Amps".
The seller is "hi-fihouse" and is located in Bournemouth, Dorset. This item can be shipped worldwide.
Model: Prologue Premium
Colour: Black
Type: Tube Integrated Amplifier
Brand: PrimaLuna
Manufacturer Warranty: 1 year
Number of Channels: 2
Power: 35 wpc