Sophia Electric Magic 126S-05 Tube Integrated Amplifier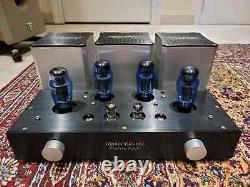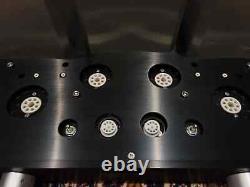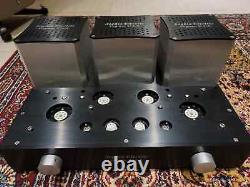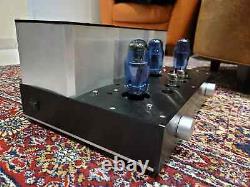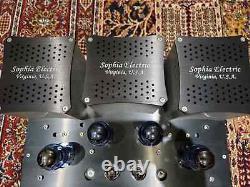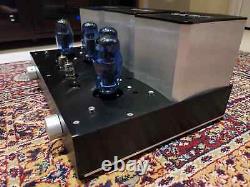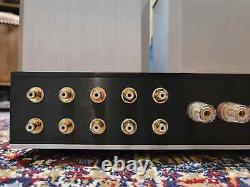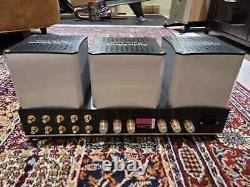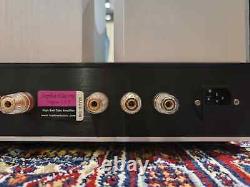 Sophia Electric Magic 126S-05 in Excellent Condition Does not often come up for sale used. This is the 126S-05 not the 126S-03 Please check out all the photos. Google the unit and read all the fantastic reviews on Sophia Electronic Amps and Tubes. Combine the best of vintage WE sonic flavor with plenty of power to drive two big 15 inch TAD/JBL woofers or most floor standing speakers in the market through output transformer design and circuit design and voicing.
Home Theater Review: The Audio Research Vi60 uses KT-120 power tubes and has a much leaner and tonally drier sound than either the Magic 126S-03 or the Leben CS600. The Leben CS600 comes closer to the sonic signature of the Magic 126S-03, having beautiful, natural, and rich tonality. It is also based on EL34 power tubes but lacks the soundstaging and overall macro-dynamic abilities of the Sophia Electric amplifier. Enjoy the Music Review: So if you were to ask me today, what makes CD's sound closer to vinyl and vinyl closer to live music, my answer would be the Sophia Electric Magic 126S-03 Dual Mono Stereo Integrated Amplifier... Spaciousness is a word that comes to mind when thinking of the 126S as it allowed my Spendor loudspeakers to sound at their best in this regard. It was quite simple for me to become immersed in the music and forget about life's day to day strife. I often found myself coming home to unwind with the 126S as a way to put any minor troubles behind me and this after all is the point of an audio system. That being said, the Sophia Electric Magic 126S-03 Dual Mono Stereo Integrated Amplifier gets a high recommendation from me. I tried new speaker cables in the meantime and now I really have the Magic 126 sounding absolutely fantastic.
I start to understand why it's called magic. It gives me a sense of ecstasy like I never experienced before with music playback.
I'll keep this amp and will get a new set of tubes soon from you. If I go 300B it will be as an additional amp, not replacing this one. Thanks for making such a magic amplifier! Sophia Electric126S tube amplifier was designed for those who desire for 300B level of sound yet output 3x more power than a typical 300B amplifier to drive main stream speakers and for those big horn speakers with 15 inch woofers. Sonic characters and design features: 1.
This Sophia Electric 126S amplifier has lush smooth sound, yet vivid, detail at the same time like 300B amplifier due to its use of user friendly cathode self-bias design, quite different from today's push-pull amplifiers that use fixed bias. S stands for self-bias design. The use of cathode self-bias is a big plus for ultra user friendly. User can swap any brands of output tubes without the need of re-biasing.
Sophia Electric was the first company in modern time to use pentode input driver tube in Push-Pull amplifier since WE 124 of the vintage time. A pair of specially designed output transformers + the use of pentode tube does give Sophia Electric 126S a sonic characters like WE 124, yet output 25W X 2 of power and with easy to use characters like WE142. Can be used with CD player with or without a pre-amplifier for different sonic performance. 126S-05 limited edition is designed to drive TAD/JBL horns speakers with one or two 15 inch woofers per speaker. Self-biased El34 push pull circuit with pentode tube as input/driver (similar sound to WE 124 and WE 142). 25W per channel x 2 with input sensitivity of 0.375V RMS. Five sets of RCA inputs. 6CA7/KT77/EL34 family tubes x 4 units. 12Hz - 35 KHz at -+3dB.
1.5mv with AC tube filament. 8" H x 18" W x 12 D. 50-100 hours on tubes, 200 hours on output transformers. This item is in the category "Consumer Electronics\Vintage Electronics\Vintage Audio & Video\Vintage Amplifiers & Tube Amps".
The seller is "gts_estore" and is located in this country: US. This item can be shipped to United States.
Type: Integrated Amplifier
Model: Magic 126S-05
Country/Region of Manufacture: United States